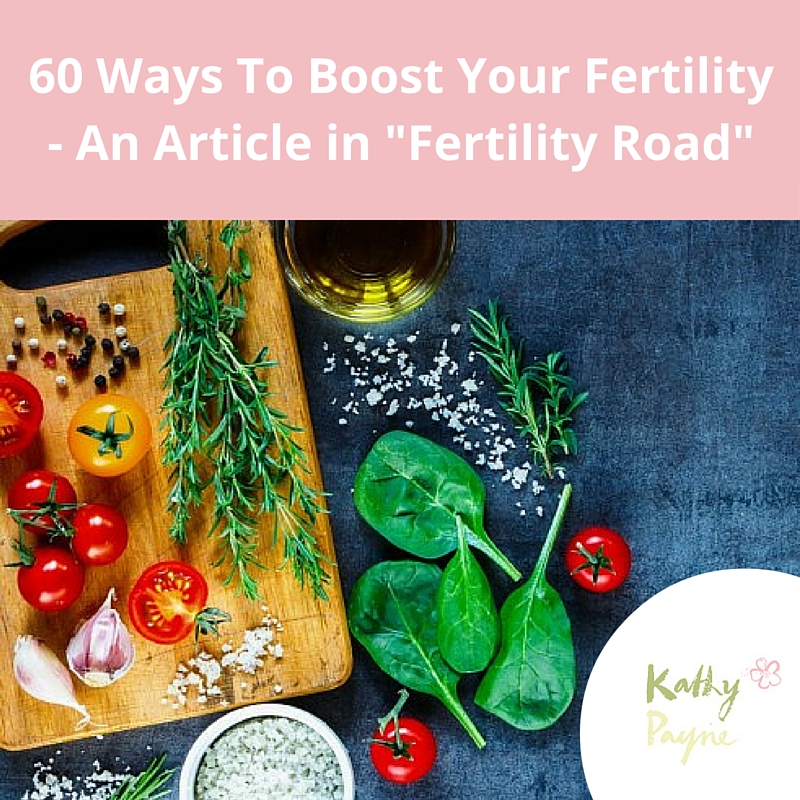 60 Ways To Boost Your Fertility
It's a bright and blustery day here at KPHQ.
A "normal" day – cracking on with work.  Walking the doodle duo.  Whipping up a storm in the kitchen.  Pottering about my chores.  For "chores" I mean cleaning dog snot from the french windows.
Anyhow …
An Article in Fertility Road
I was bumbling along, when an e mail dropped into my mail box. It reminded me that I'd been asked to contribute to an article called 60 Ways to Boost Your Fertility and Your Chances of Getting Pregnant.
AND IT'S PUBLISHED. NOW.
Excited much.
It's in a well-respected print and online magazine called Fertility Road .  The mag is for those planning a baby or struggling to fall pregnant.  It's a great resource.
The article is pretty useful too.  Several experts have contributed – including me.  But it's not all about me. Or the others including Zita West and Emma Cannon. It's a brilliant article. For YOU.
So take a read of the whole thing.
Help Along The Fertility Road
There are tips on eating for fertility.
On smart lifestyle choices to boost your chances of having a happy, healthy baby.
Some stuff on complementary therapies for fertility-  acupuncture, homeopathy and herbs.
Hints on stress busting.
I saw a few book suggestions.
There are tips on sexual health and gynae health.
Inspiration for dealing with your emotions on the journey to parenthood.
Encouragement to find practitioners who get you and you love them.  This is a subject close to my heart…
Working With Me Along Your Fertility Road
… choose the right person or team for you to support you on your journey.  With me? Well, you get my best guidance on food, lifestyle and natural therapies with hugs and handholding.  Have you checked out my philosophy on working with people?
You can find much more about my practice  and my VIP programmes right here on the website.
My Facebook page and other social media feeds have loads and loads of FREE tips
In case it passed you by, here is the Fertility Road article link again…
>>60 Ways to Boost Your Fertility and Your Chances of Getting Pregnant
Grab yourself a herbal brew, take some time out and have a read.
It's well worth it on your own fertility road.
If you're on a journey to parenthood, you'll LURVE my FREE online programme of video as and notes called 7 Steps To Boost Fertility. 
It covers ALL the basics you need to know to get baby-fit and boost fertility.
It's for you whether you've pee'ed on a gazillion sticks already or you're just starting to get your head around getting baby fit.
It's super easy to access and use.  It's also totally private and discreet.
Love, Kathy x